What to wear for a four days of work at a resort!? I love my job! This past weekend I was away in beautiful Kota Kinabalu for a work conference. Meeting up with teachers from all over Asia meant I was able to catch up with many friends made at the different posts we've had. I ended up packing only black and white items. I was quite happy with this theme as it gave me plenty of options to wear but not a lot of choice–if that makes sense. Basically it was fool proof. I ended up wearing 8 different outfits during the four day time just because there were so many different kinds of dressing: workshops, pool time, parties, plus travel time. I never got to the black jean shorts or the white kurta–they were there if I needed them. I receptively wore the black skirt and the white jean shorts as they were the two easiest options for the pool. I'm traveling again for our spring break, so I'll be packing again real soon…ahhh what to wear!
Outfit 1: Travel Wear 5/5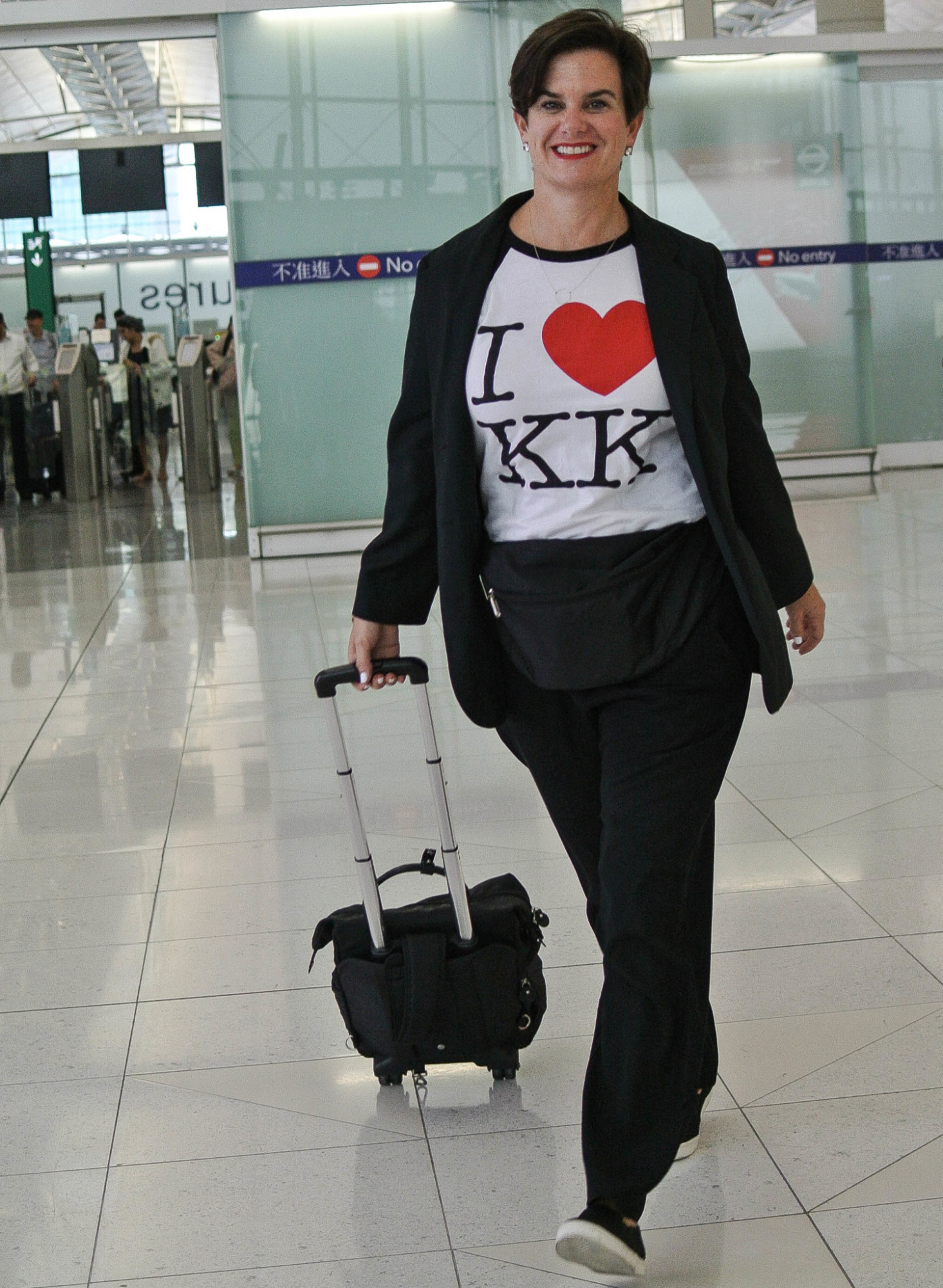 I felt super comfortable and utterly adorable in this travel outfit. Yes, it's totally over-the-top–wearing an "I <3 KK" tee, but I was going to Kota Kinabalu, and it felt like a must. Kevin had traveled to this same spot back in October. When he pulled out this little sentimental tee for me, I was ecstatic--like literally jumping up and down. I think it's up there with one of the sweetest gifts he's given me. Because, let's face it: I do love KK!! I always travel in these black trousers accompanied with the black blazer. I now only save the pants for traveling; they're getting so worn. Eventually I will make the necessary time to replace the completely done blazer, but until then, both the pants and blazer are a part of my travel uniform with the newest addition being my FANNY PACK!
Outfit 2: Workshop Wear 4/5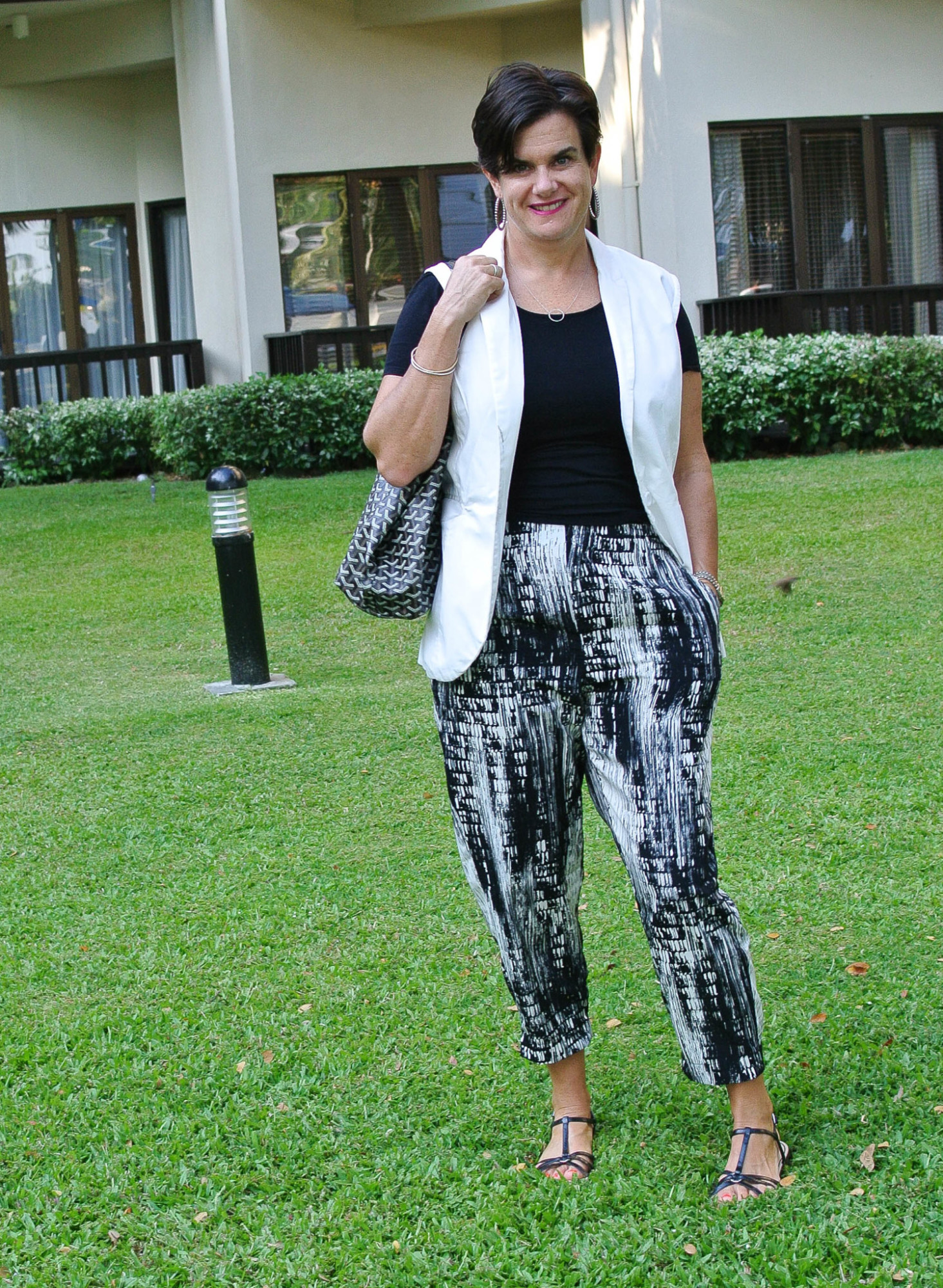 For the first day of workshops, I wanted to be comfortable obviously, but also dressed up a bit. The pants hit high enough that I can pair them with a crop top. The mommy waist though did make me feel self conscious a few time though. I liked how the nipped me in around the backside, but I kind of felt like they also accentuated my ponch on the frontside. All the more reason to hold in the core! The blazer did not last–even in the ac it was not needed.
Outfit 3: Poolside Wear 5/5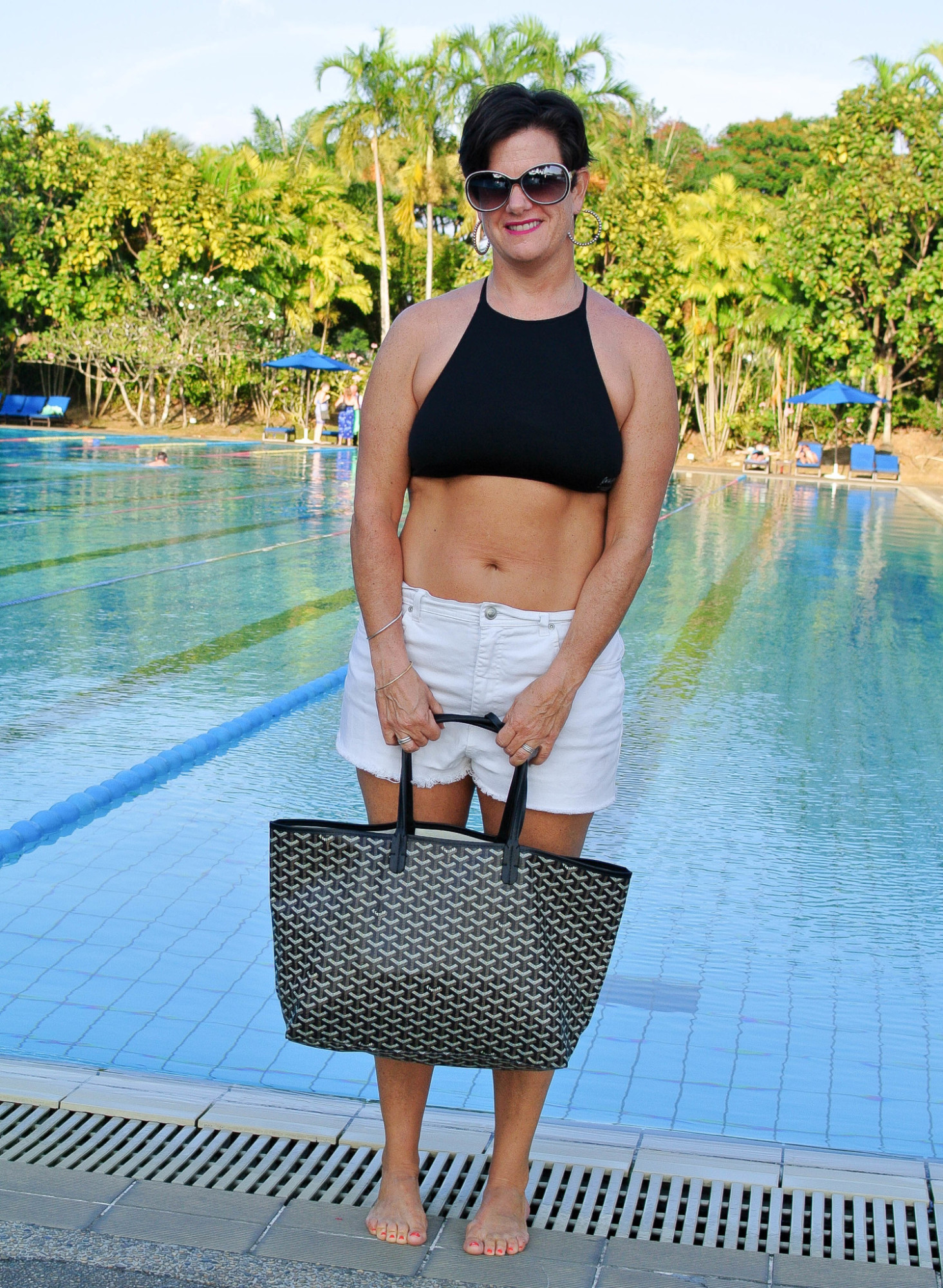 Our room was super close to two different pools. I went with the throw cutoff jeans on instead of wearing a coverup. It's reminiscent of the "cool dock" days out at Priest Lake circa 1987! Sometimes though, it's just easier. Because my halter top feels like I'm substantially covered, I don't feel to self conscious walking around in this getup. And look at that pool! We were able to swim laps–long laps for four days in a row. BLISS!!
Outfit 4: Party Wear 5/5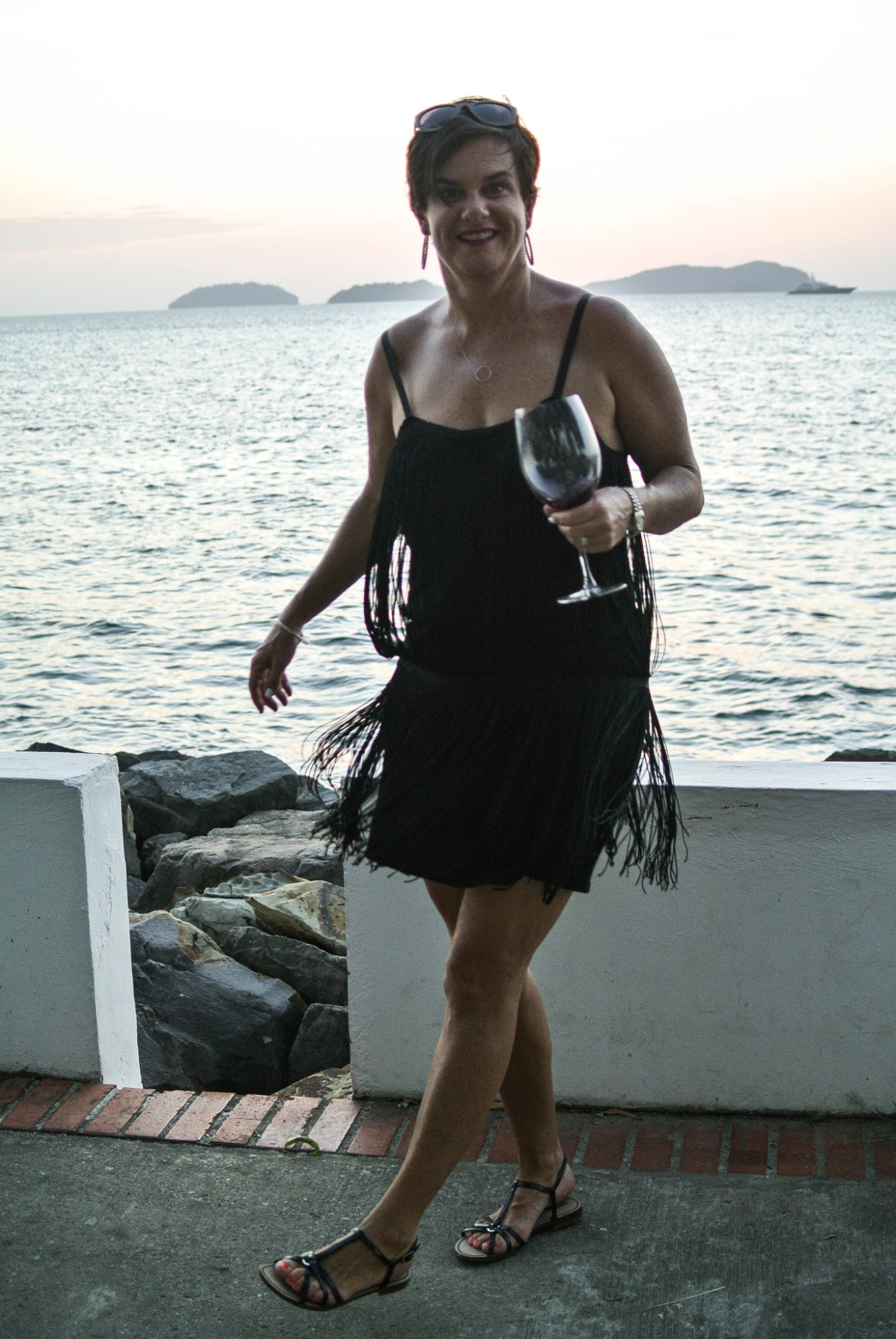 On the first night of the conference there was a big shindig. I wore my fringe sundress. I was warned by my family that I was too dressed up, but I didn't feel it. A party is a party! And, I got a few random compliments with this dress which always ups the confidence value of any outfit hence the 5 for 5! This dress is seriously on trend with all the fringe, BUT it also is a little call to the roaring 20s in style. I love wearing it and see it making a few more appearances this spring. (Here it is from last spring with my long hair and all!)
Outfit 5: Conference Wear 3/5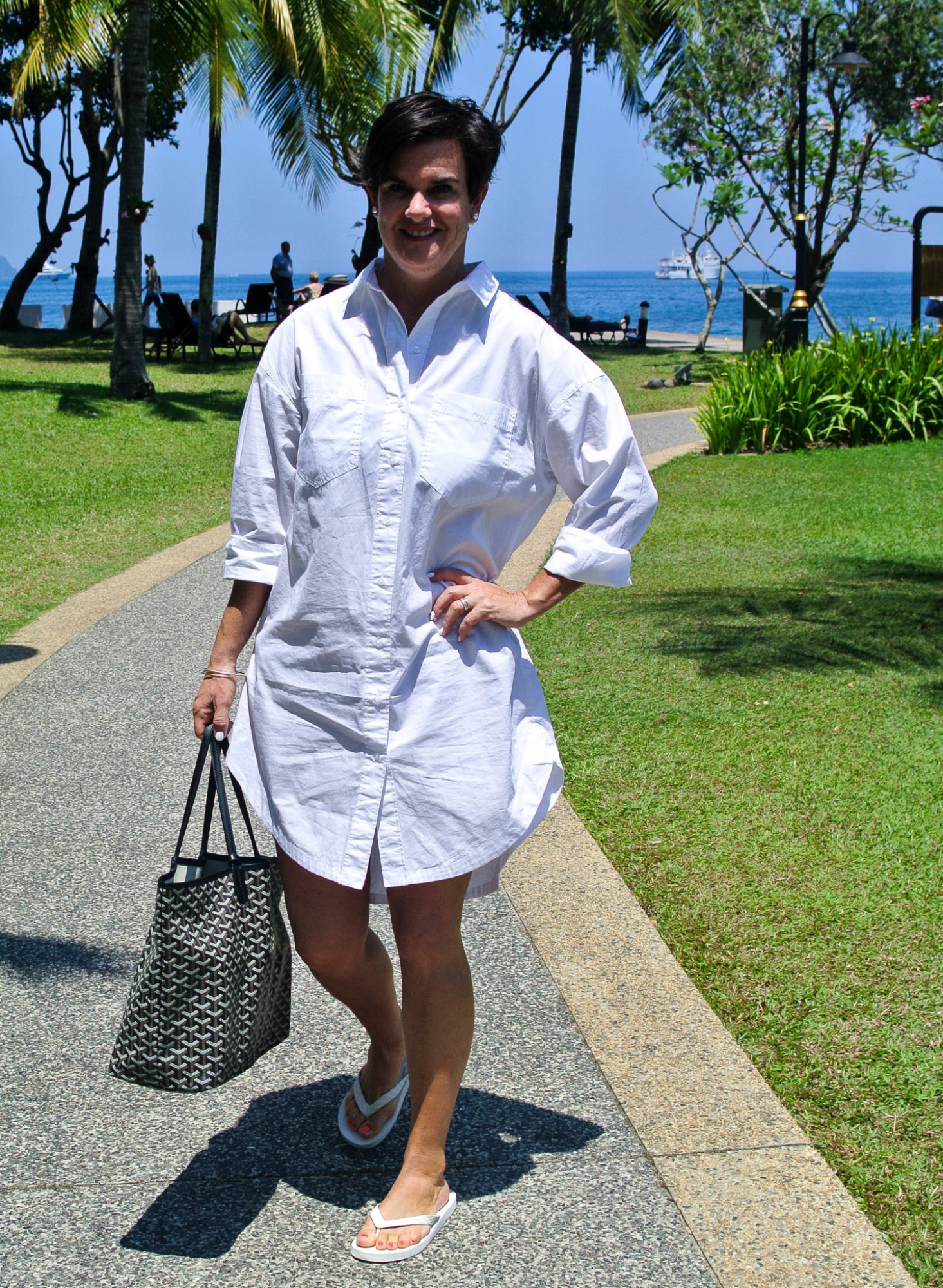 I was so excited to finally find this white shirt dress. The back hem is longer than the front. I had first seen something similar on Shea Marie of Peace Love Shea and became obsessed. I had one made when I was visiting my sister in Shanghai, but it was a bust. Then, when I saw a similar version in the store window at HM, I went in, found my size, and purchased it right away. But, you know what. I just don't think it looks very good. I'm not sure about this one…I'll try styling it again, but this one might not work for me. I definitely love this coverup version in a silky crepe, but was hoping a cotton shirtdress would work as well. We'll see…
Outfit 6: Poolside Wear 5/5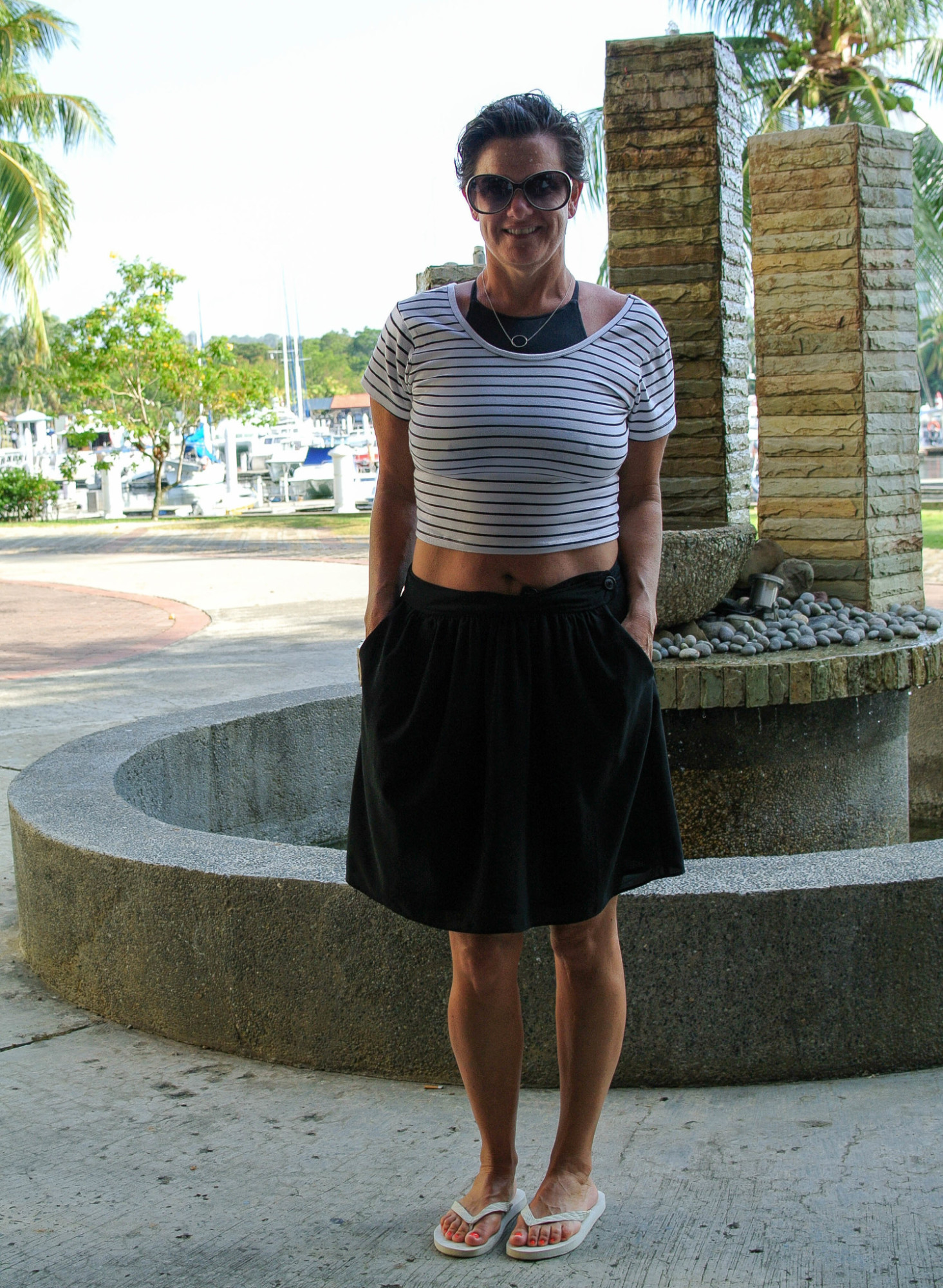 Another run to the pool but this time in my black wrap type skirt and another crop top. I didn't mind running into other conference folks in this outfit and because the entire conference is at a resort, it's quite acceptable to attend a couple of poolside workshops as well!
Outfit 7: Party Wear 4/5
For the final night of the conference, there was a final gala. I wore this simple black with white piping dress. I felt dressed up, but I felt more chic in the fringe one from two nights before. This one lies straight down in an A-line whereas the other cinches in at the waist. I think my figure needs that little cinch otherwise I become too apple with the stock arms and heavy chest. I did like this dress, but I feel more comfortable in the other one. This reflection has become very interesting for me, and I'm definitely learning what I prefer.
Outfit 8: Travel Wear 4/5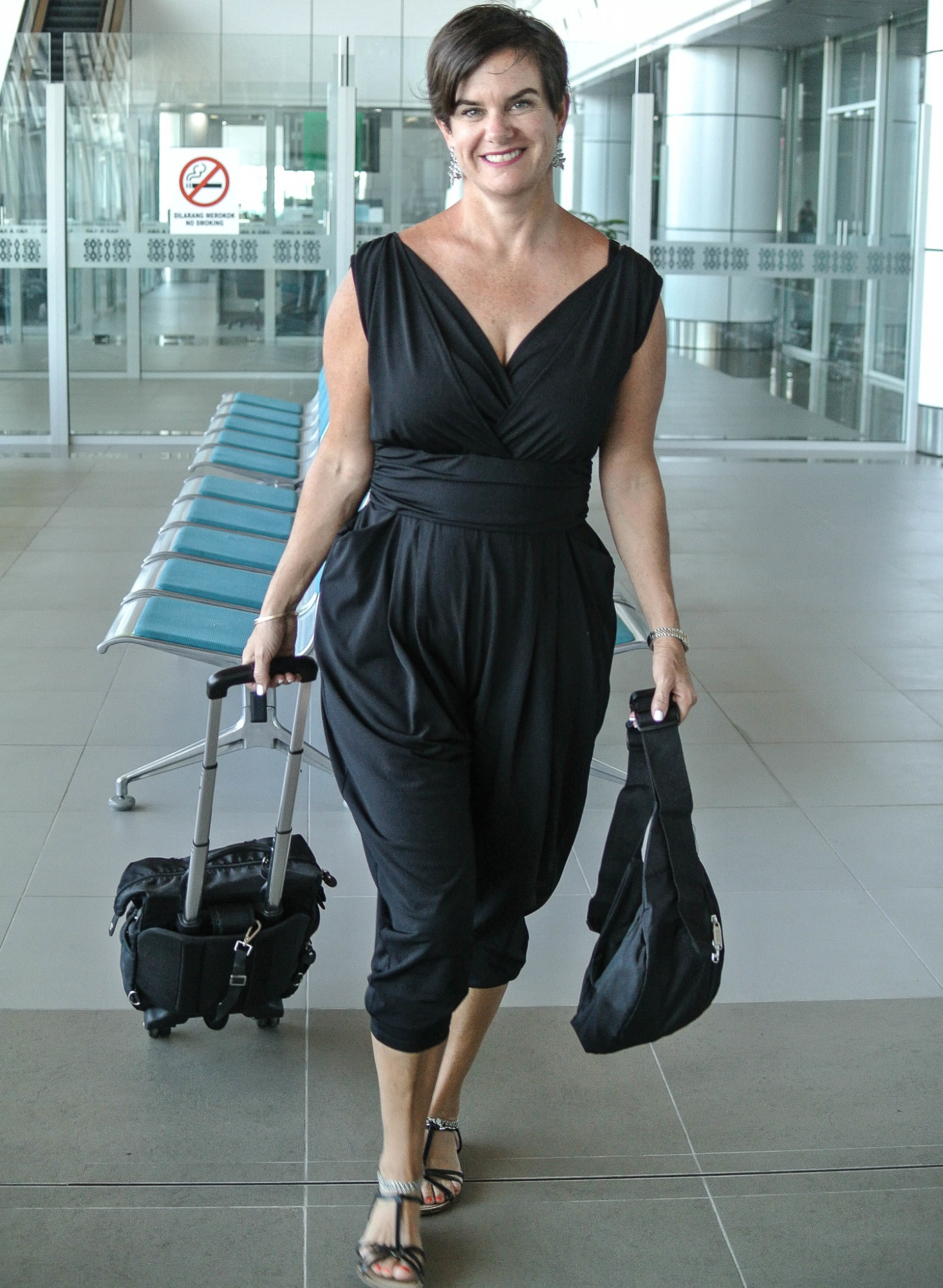 I love this jumpsuit! I picked it up in Bangkok one afternoon shopping away. While I love it, I don't think it was the best travel outfit. Because of the plunging neckline, I felt self conscious at times, but if this outfit is worn for a party or an event, I always feel in place. I guess it was just a little much for a plane ride–but that doesn't mean I don't love this jumpsuit any less. I personally think it's RAD!
Black and White Wear
Because wearing black and white is so easy, and packing with this theme is even easier, I went out shopping and found some great color coordinated options.
*This post has been linked up to Let It Shine, Sunday Funday, Monday Mingle, What I Wore, Throw Back Thursday, Passion for Fashion, Fab Favorites, Brilliant Blog Posts, and Fashion Friday.