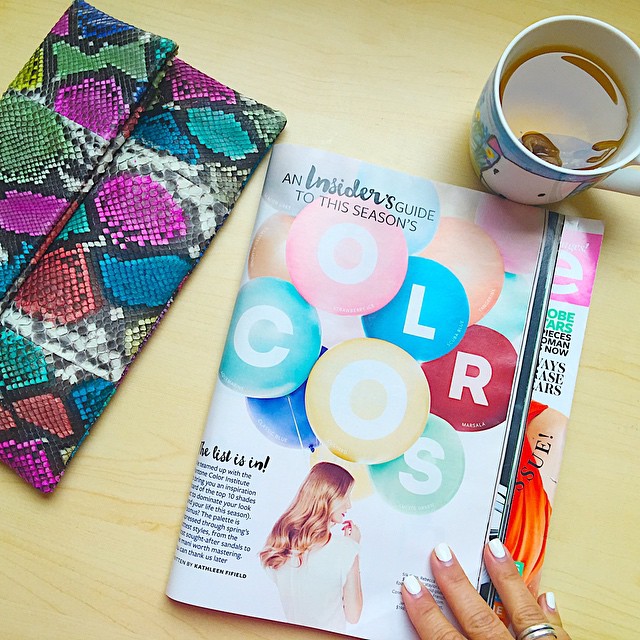 I've lost count on how many Style Stories I've written now–it might be over a dozen by now. This series started out because I wanted to clean out my closet. I have so many clothes! I get attached to them: almost every item in my wardrobe has some sort of story behind it. In these posts that are published on Fridays, I've included weeks worth of work outfits and travel outfits. It was when I read InStyle's April issue that I got the idea of dressing with a theme in mind. I've participated in style challenges through Instagram and have always found them rewarding. Prescribed outfits makes getting dressed in the morning easier. Therefore, I gave myself an #InStyleColor challenge. InStyle highlighted Pantone's ten colors of the year, and I set out to wear each color to work for ten days. Here's how it played out:
Pantone Colors: Strawberry Ice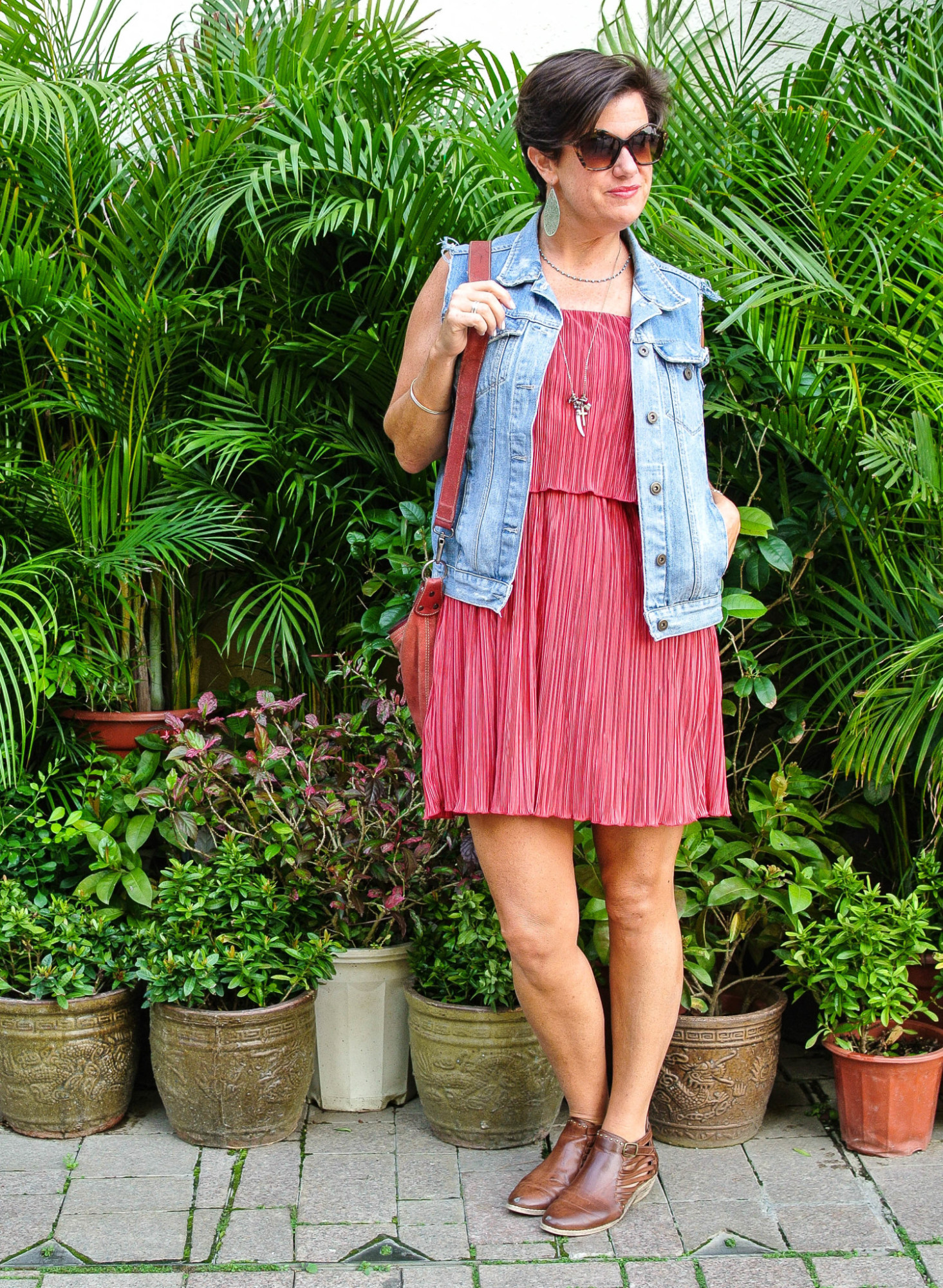 When I looked at my closet for this very unusual shade of pink, I had a few options, but none of them seemed just write. A couple of nice flowy skirts were a bit too coral, and then I had a sweater that I'll most likely be getting rid of because it does nothing for me. (This Style Story series continues to help me with my 2015 closet goals!) Then, I was like duh! I have this great dress that has actually been featured here on a post called Lost Feather. Yes, this dress is definitely a sundress with spaghetti straps no less, but I have a quick fix for that: just add a layer! For this outfit I added my cutoff sleeveless denim jacket. The only problem…I was cold all day. I didn't realize that the even though we've got sun in HK, it's still a bit chilly. It's deliciously brisk outside, so I knew to layer for the rest of the week. The sad part about this outfit is that the little booties that I love so much are done. They're vegan, and I just wore them out too much on my trip to Lijiang. Both toes are scuffed. I might be able to paint them or find some fake plastic to cover them up–we'll see because they are most definitely my favorite pair of boots that I own!
Some Stawberry Ice
The loft is fulling embracing this color! They have many "strawberry ice items." For summer I chose a similar dress, tunic, and shorts. There's also a Wet'n Wild lip gloss, Hanky Panky panties, plus a perfume in this color of the year!

Pantone Colors: Classic Blue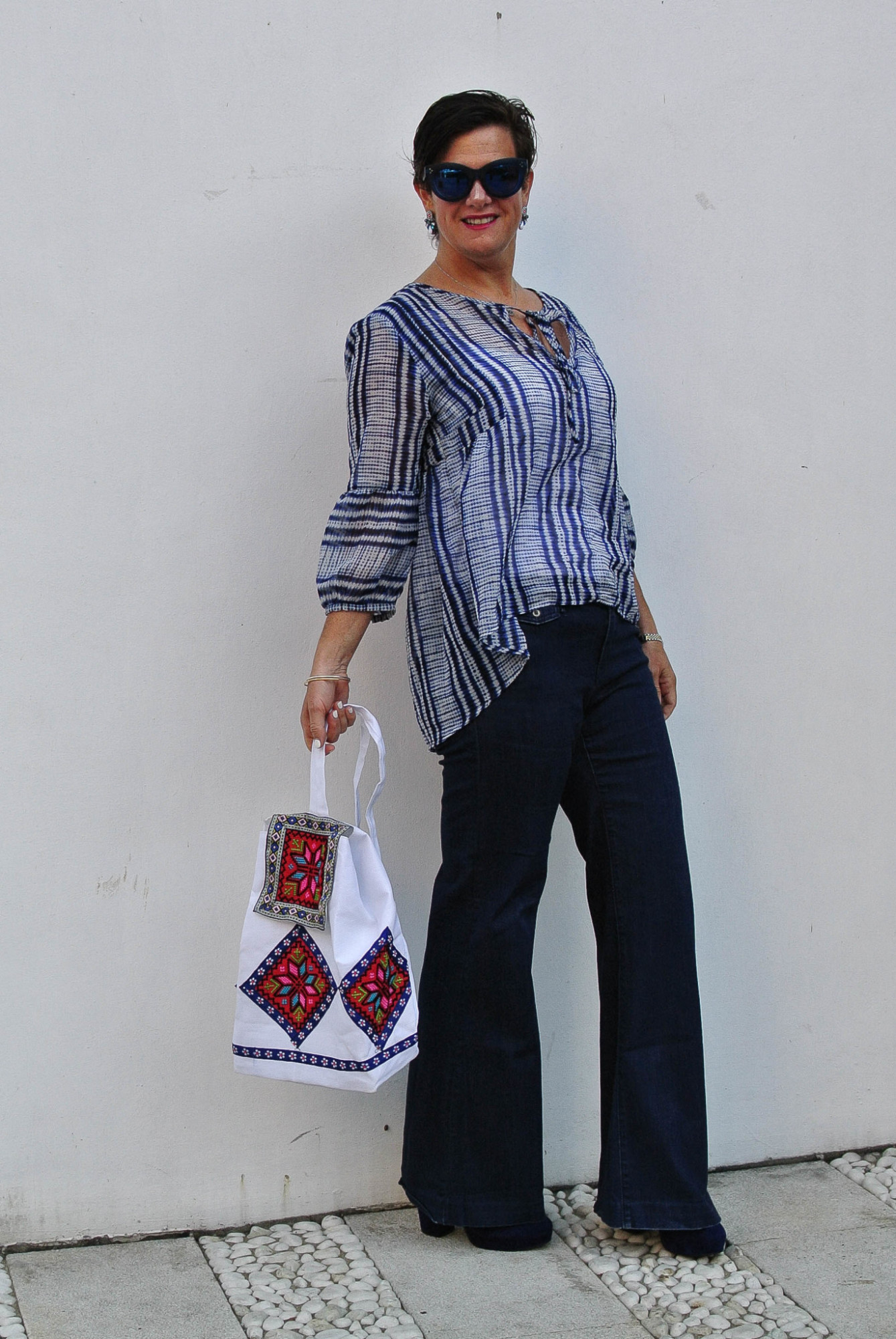 So, after being freezing the day before, I went with a ton more layers on this day. The blouse is like water, and the jeans are nicely tailored, straight legged, and full. The last time I wore this top on the blog was during summer ferry rides to the San Juan Islands. (Boy, my hair was long!) What you don't see in the picture is the short sleeve white sweater AND the sleeveless white blazer that I wore to keep me warm. I knew I'd be wearing jeans to work–and not on a Friday–but I thought I dressed them work appropriate. I felt very classy and put together in this outfit, and I love being able to wear my blue suede booties. The outfit took me into town after school. I always like to feel stylish when walking the downtown streets of Hong Kong, and in this outfit I did! Plus, I'll take any excuse to bust out my bright blue mascara! (And if you're daring, go for it. Get some!!)
Classic + Blue = Jeans
The best way to wear classic blue is in a structured pair of blue jeans. High waisted cuts are an excellent option. I know it sounds crazy, but the higher the waist the more sucked in the gut. Would you rather cut the post baby pooch in the middle or over it? For me, I want to not cut into it at all but rather hold it all in. This style of jean does that for you. (I also found a similar top to my watery tie dye tunic;)

Pantone Colors: Aquamarine
Now, I was hoping that I wouldn't have to buy anything for this personal color challenge I've created for myself. BUT, I have two great skirts boasting aquamarine, but I had nothing on top. Since I was in town the night before….well I popped into Forever 21, put my aquamarine radar on, and found this top. I've gotten to the point that I don't even have to try all items on in that shop. I know I'm always an L, and I could just tell this blouse would work. I was pleasantly surprised in the morning that it totally worked. I did not know that this is a great color for me! I have greenish, bluish eyes depending on what I wear. This top pulled out the blue which surprised me! Also, while paging through my spring fashion mags, I kept seeing lovely images of models with over-the-top bright aquamarine eyeliner. Well, never one to miss the chance for a little OTT, I went for it. And I had such a fun day knowing my eyes were a little brighter!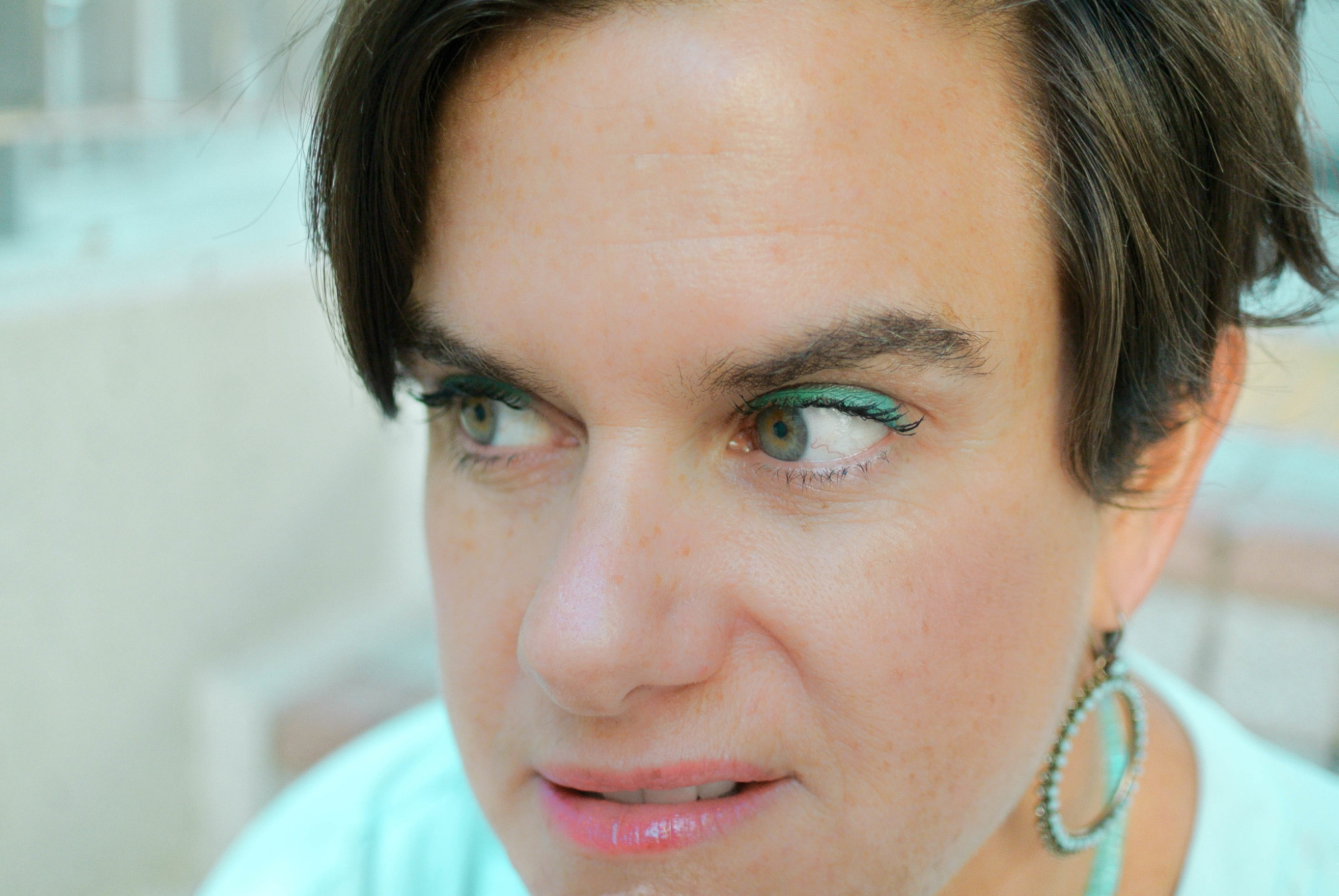 Swimsuit Season is Near
Aquamarine has me thinking about water… which has me thinking about the beach… which has me thinking about summer… which has me thinking about swimsuits…These all have aquamarine writtenn all over them!
Pantone Colors: Toasted Almond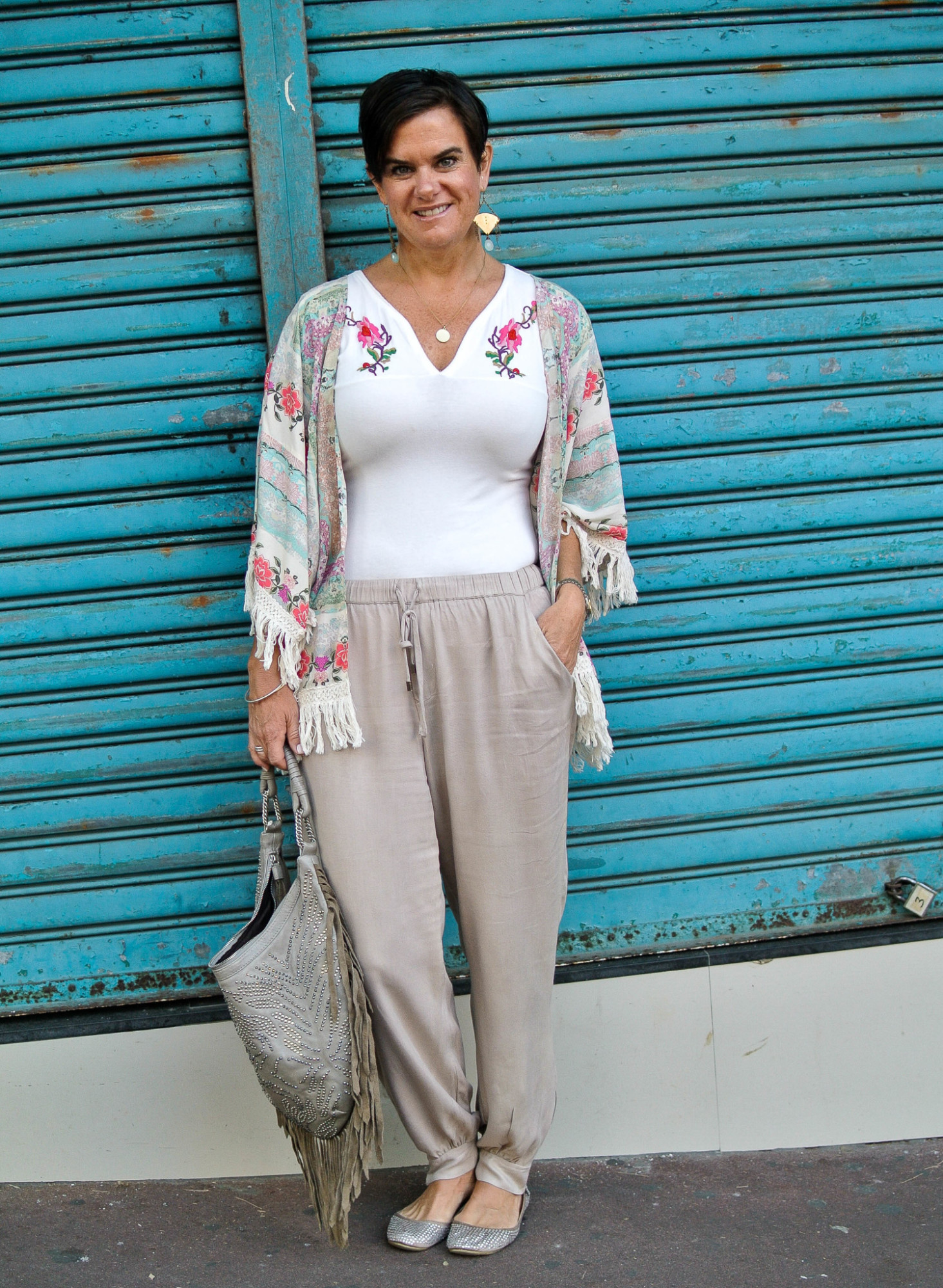 I've been wanting to pull out this beautiful kimono for awhile now. It made it in my suitcase for my recent trip to Yunnan, but it didn't make the Style Story since it obviously isn't very warm. These pants did though. Even though they're like sweats in the style, I think the material dresses them up a bit. Wow, are they comfortable! Every now and then a little slouchy slouch makes me feel cool. I picked up this tee during my travels as well, BUT in looking at this pic I think it's a little too boobie for me. I do have large breasts, and usually don't try to flaunt them, but it appears like I am in this top. I will probably get rid of it, but first I'll try it out with another bra. I loved how how the tee seemed to perfectly compliment the kimono though….I'll give it some thought.
You Can Do No Wrong In a Kimono
Yes, kimonos are a super hot trend right now, but you really can do know wrong in wearing one. They are long and flowy and so they do two things really well: they elongate and they conceal. I have two longer ones, and one shorter one: I can honestly say I feel great wearing one! Embrace this trend. Trust me! (The first kimono looks just like mine from Zara.;)
Pantone Colors: Lucite Green
My mom does a wonderful job of having Christmas in June for us the moment we make it to Spokane, Washington in the summers. We all look forward to this immediate hour when we descend to the basement where there's a little tree that she's put up with superbly decorated gifts. They're bursting with ribbons and bows and in Christmas paper. It's really quite a special treat. Anyway, one summer for Christmas in June my mom gave me this lovely top. I especially adore it because I would have never picked it out for myself, but it is really cute. (At least I think so.) Being a Friday I took the liberty to wear my skinny white jeans. Of course I brought along my sleeveless white blazer as a layer for the AC. (The temperature has warmed up. It's Friday, and we might be able to go to the beach this weekend!)
Smokin' Lucite
Lucite is such an unusual color–it's definitely not mint green or bright like aquamarine. Rather this color has a smokiness to it that's almost grey. In finding lucite green options to add to your wardrobe, I realize my blouse would look great paired with my grey, snow leopard jeans. Next time…
Week One Reflection
This personal #instylecolor challenge has been fun! I think holding myself to some sort of challenge has got to be the best way to dress. I end up planning the night before–or even a couple of days in advance. I also coordinate outfits in different ways than how I usually have in the past really mixing up my wardrobe. There wasn't one piece of clothing I wanted to get rid of except for maybe the boobie tee on Thursday. Unfortunately I need to find a new pair of brown little summer booties as the pair from Monday are done. So sad. They're my fave. Out of all the colored outfits, I'd say aquamarine was my favorite. I felt really pretty on this day. I also felt quite chic in blue.
Second Week
Definitely getting dressed with a color scheme in mind saves time in the morning. It's almost–not quite–but similar to having a uniform. I like this idea of restriction each morning as it guides me and means I'm more efficient in what is usually pretty chaotic mornings.
Pantone Colors: Scuba Blue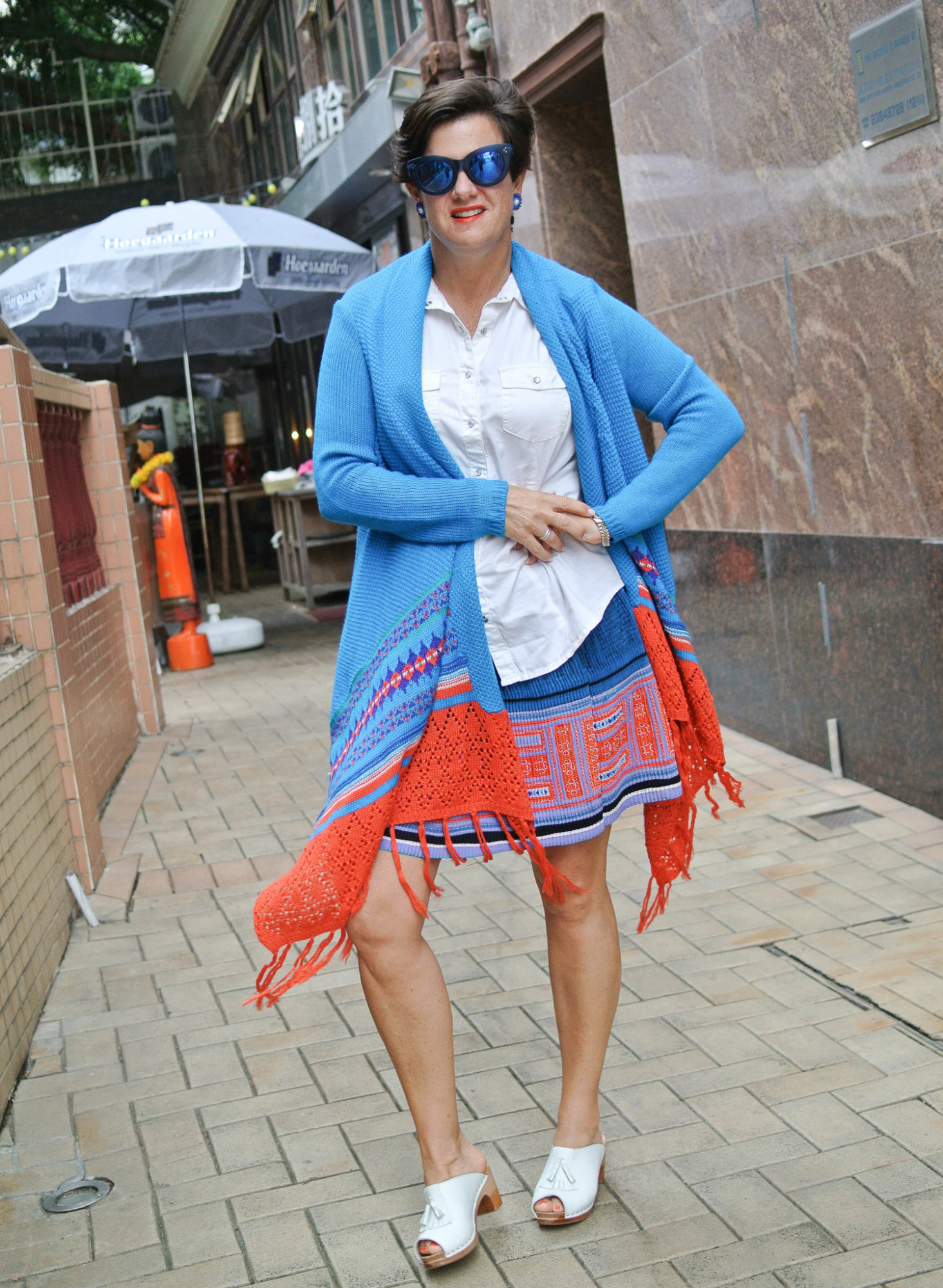 Usually, this is the skirt I pull out for rollerblading. Scuba blue is a difficult color to pin down, so I'm not quite sure if I got it exactly. Both my blue items here are from China but picked up at different times. I love how they totally compliment each other but then not almost not all at the same time. Regardless, I was determined to wear them together. Somehow I think it kind of works. The over-the-top-ness in me won here! Plus orange and blue work so well together. To reign in the color I paired this look with my bright white clogs. I'm happy to be pulling out some shoes for sandal season. Again, wearing all blue calls for blue mascara? Of course!
Blue Mascara For You
Pantone Colors: Custard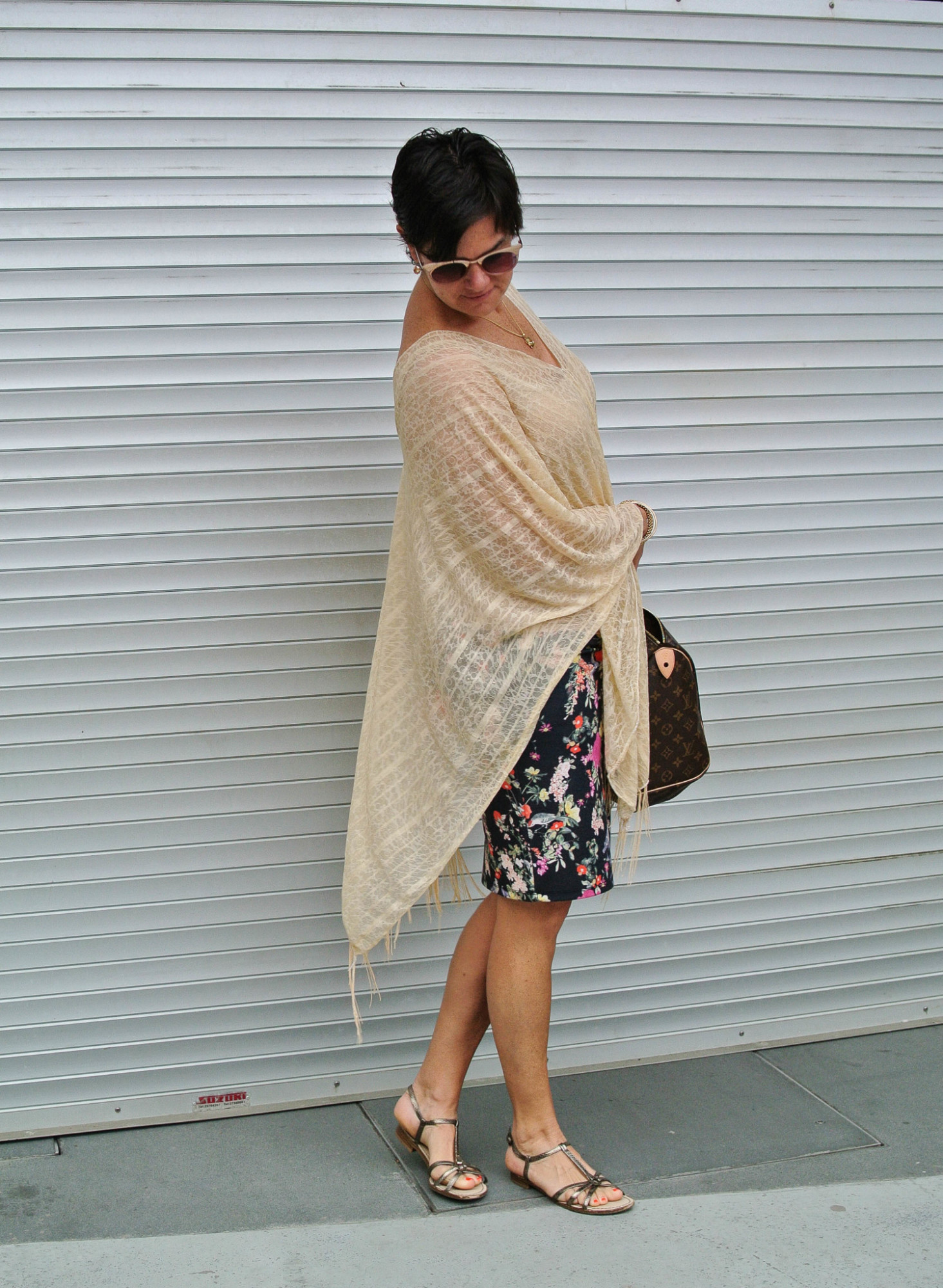 I don't really own any custard. I searched and searched my closet, but was left feeling meh. Custard is different from off white and cream, even vanilla cream. It's on the verge of yellow but more gold. I really didn't think I had anything, but then, I thought of this swimsuit coverup! Yes, try it out for school, but with out the bikini! I had a couple of different pencil skirts to pair with this shawl. In the end I went with this floral navy version from Zara. It's getting quite pilled and I should probably get rid of it, but I really like it. There are even little birdies on it. When does something become too worn? I covered up the pill makrs. Does that work? I think it does. If I don't wear it again in the next six months, I'll give it away, but I think I can cover up it's wear–literally this time with a coverup! Also, since I've been on such a blue mascara kick I went with it again today, but this time I went with Covergirl which provides more of a soft navy blue instead of NYX which gives me a bright, bright blue eye. I'm really on to something here…
Custard Anyone?
Pantone Colors: Marsala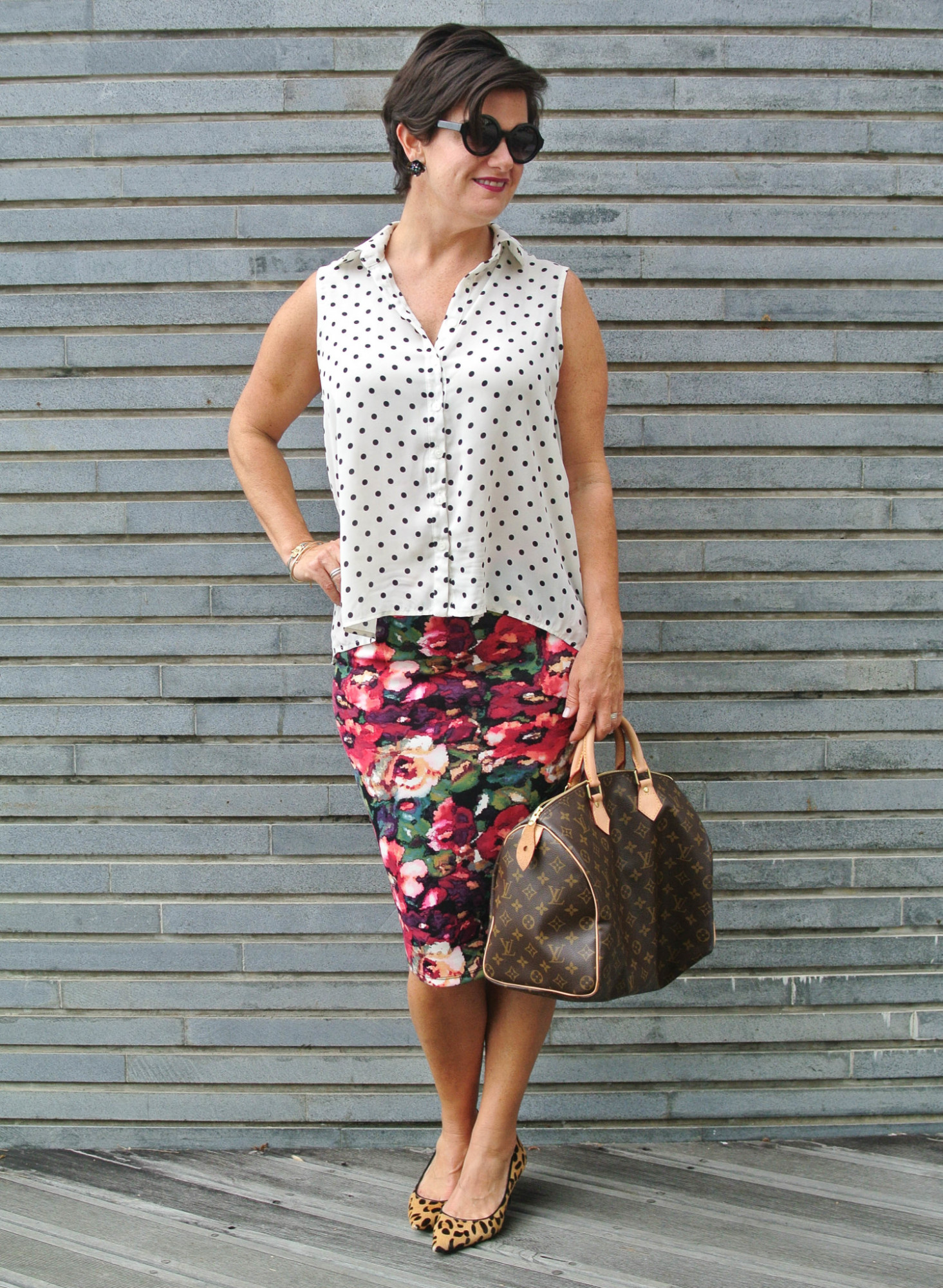 I was having a brain block with this day. The only thing marsala that kept coming to my mind within my wardrobe was my marsala sequin shift dress from Christmas and later one for my first Fab 40s post. It's like that's all I could think of. And I was trying to figure out how I could get away with a sequins dress as work. Luckily at the last minute I remembered this floral skirt I had! Then from there, I just went all pattern crazy like I love to do. Florals, polka dots, leopard? Yes, yes, and YES! I felt super great on this day. This is an example of my hip, funky, and eclectic style!
Marsala Stained Lips
Get deep color lips but without the wine! While I'm usually a bold lip wearer in bright oranges, reds, and pinks, every now and then I love the look of wine stained lips. Here are a few of my favorites:

Pantone Colors: Tangerine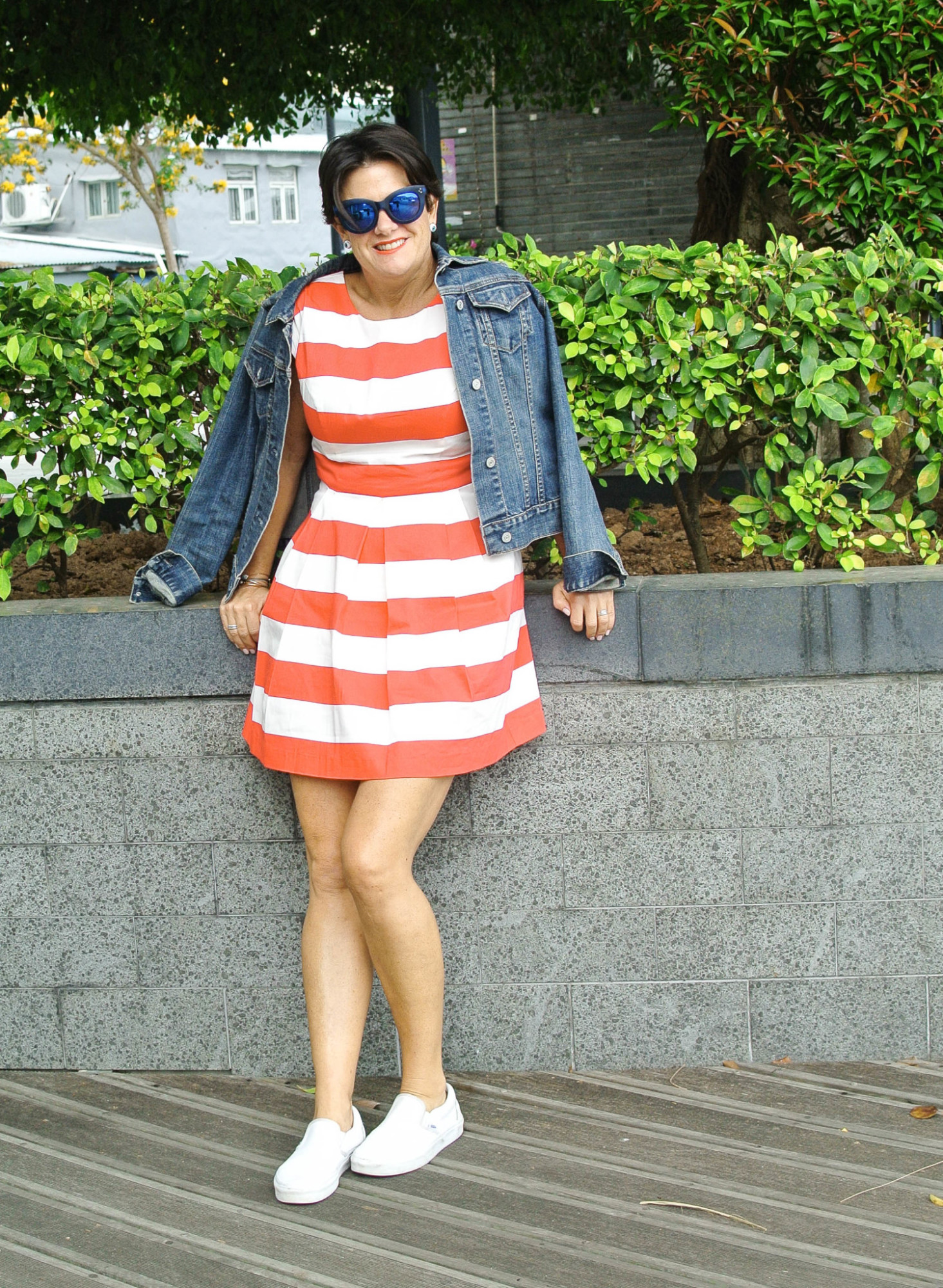 This was a no brainer for me. I immediately thought of this bright dress which I hadn't worn to school yet. I knew I wouldn't want to wear the blue pumps all day, so I did struggle with what shoes to wear. In the end, I went with my simple Vans in an effort to dress the look down a bit. For warmth I chose my denim jacket and for accessories, I added blue. There are two things I love to wear and I will take any opportunity to do so: my eyeball earrings and blue mascara. One thing has been for sure during this #instylecolor challenge. I love wearing blue mascara. I'm wondering if it should become my "thing." It definitely adds some pep to my day, and I love receiving compliments which are frequent when your eyes stand out. Have I convinced you yet to try colored masacara? Go for it! (Another color to try for brown and greenish eyes is purple. Just try it!)
Peel a Tangerine
Who doesn't love the smell of tangerines? They're so fragrant; just peeling them is enough to make a room smell good. Here are some great products that take advantage of that exquisite burst of flavor.

Pantone Colors: Grey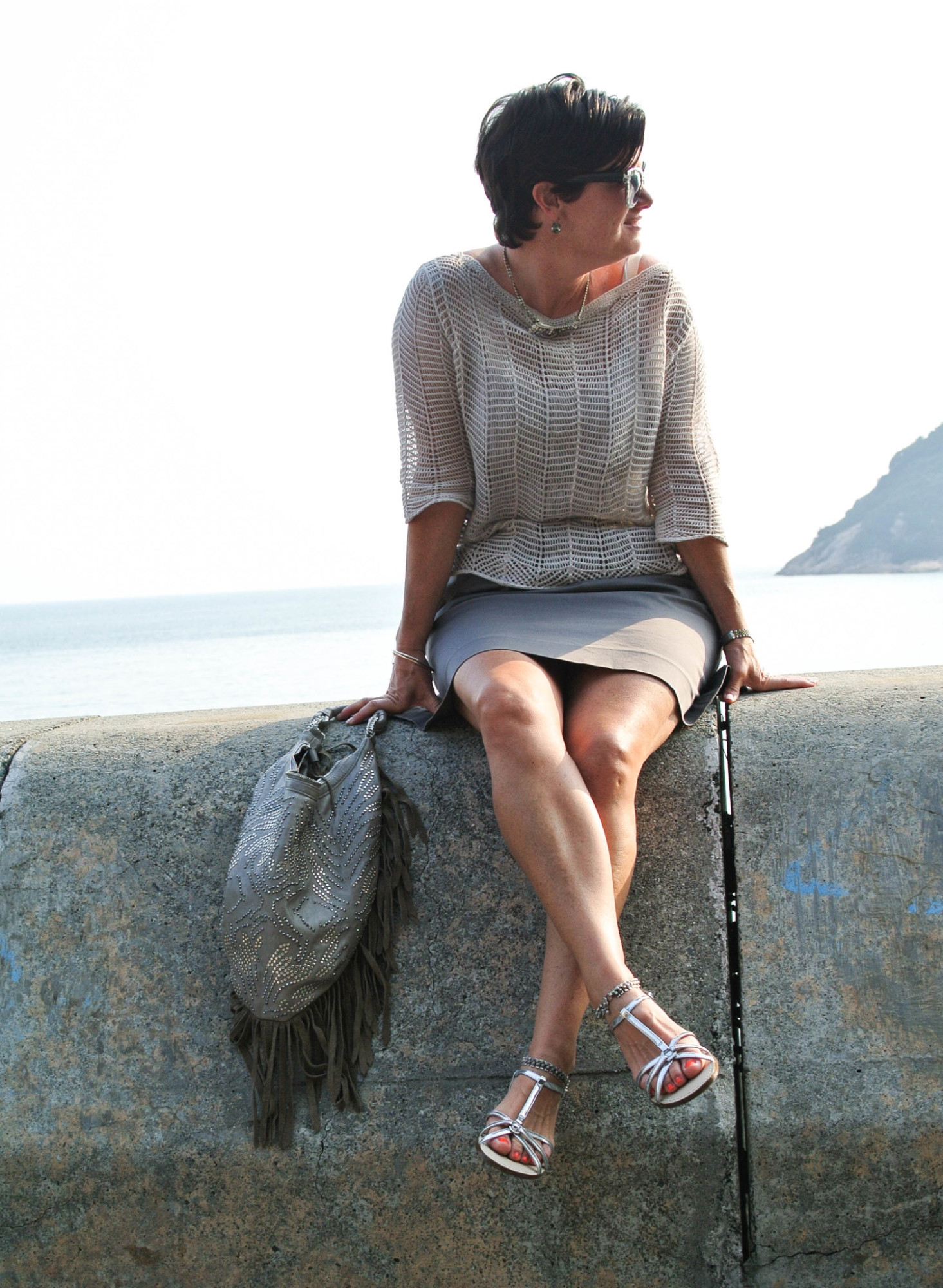 The colr grey reminds me of Beijing. When we lived in Beijing we hadn't lived through a winter in many, many years–15 to be exact. I remember being so cold, and the sky and weather being so grey, that I basically embraced the color. It somehow helped to deal with the harsh climate. For glacial grey, I went with an all monochromatic look: the light grey sweater was actually another one of my Christmas in June gifts from my mother. The sandals are similar to Tuesdays; I have a pair of bronze and silver. I'll also take any excuse to wear my anklets. Ankles like to be dressed up too!
Dress Up Your Ankles
Typically, Indian women wear an anklet on each ankle. I like to do the same, so I always purchase anklets in a pair. I also usually slip my puca shell anklets on whenever I go to the beach. Here are a few options to try.

Having a theme for each day seriously helps me get dressed. I am for sure doing this again next week. What theme would you like to see? I have some ideas: black but in spring-like way, pencil skirts, or making clothes work appropriate. What do you think? What theme would you like to see?
*This post has been linked up to Fashion Friday.