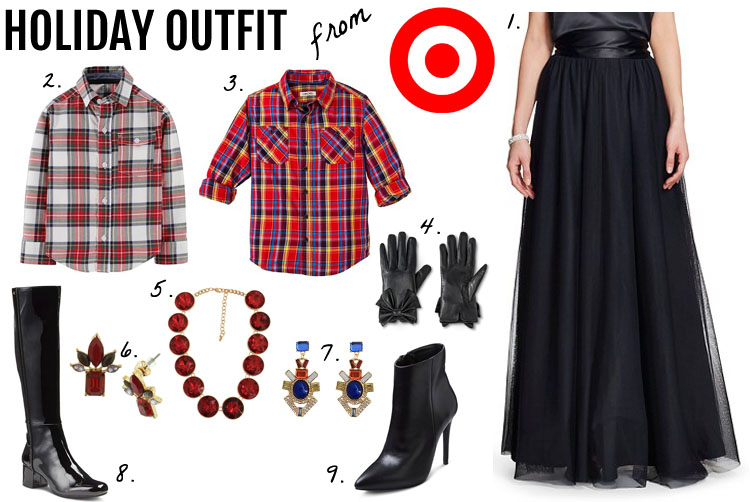 Don't worry: I will get to the gift guide from Target. But first things first–and that happens to be what am I going to wear for Christmas Eve!! We will be celebrating at my sister's new house. It's is utterly chic, and our Christmas celebration will be too. To my delight she has declared it a fancy affair, so I'm all about that. I feel determined to wear plaid dressed up, so to that end let me explain the above outfit details:
1. It's all about THIS SKIRT! It's long yet tailored and perfectly chic. The waistband cinches in the back to make a nice poofy bow. I can recall one of my dressmaking shenanigans where I tried to design a similar skirt–but this one is so much better. It is pricey at $80–Target's prices are usually lower. BUT, this is THE holiday skirt. The cost per wear is going to surpass it's heftier price tag.
2. OR 3. Now, I checked the plaid shirts in both the women's and men's section, but like usual, I also checked the kids' section. From experience, I already know that the boys plaid shirts from Target are awesome: great, crisp cotton. So I found a typical Christmas plaid version OR a fun bright red one. Which one do you prefer?
4. These bow gloves are adorable and not limited to just Christmas Eve.
5. This ruby statement necklace would work with either shirt adding just a bit of glamour to the rather casual top.
6. OR 7. If I go with the Christmas plaid shirt, I'll opt for the red and black statement earrings. On the other hand, these red and blue baubles would look great with the fun bright red plaid shirt.
8. OR 9. If I'm realistic, the lower heeled, knee-high boot is more practical for me and my hip recuperation, but in my dream world I would totally rock the pointy, stiletto heeled, sock bootie….
My Holiday Outfit from Target:
If I go with the Christmas plaid shirt with matching earrings and the knee-high boots the total is USD $207. If I opt for the red plaid shirt and high-heeled sock booties my total would be $197. To knock $50 off this outfit I could perhaps do without the statement necklace and simply go for just a pair of statement earrings as those are both only $8 dollars each!
Now on to the Pressies: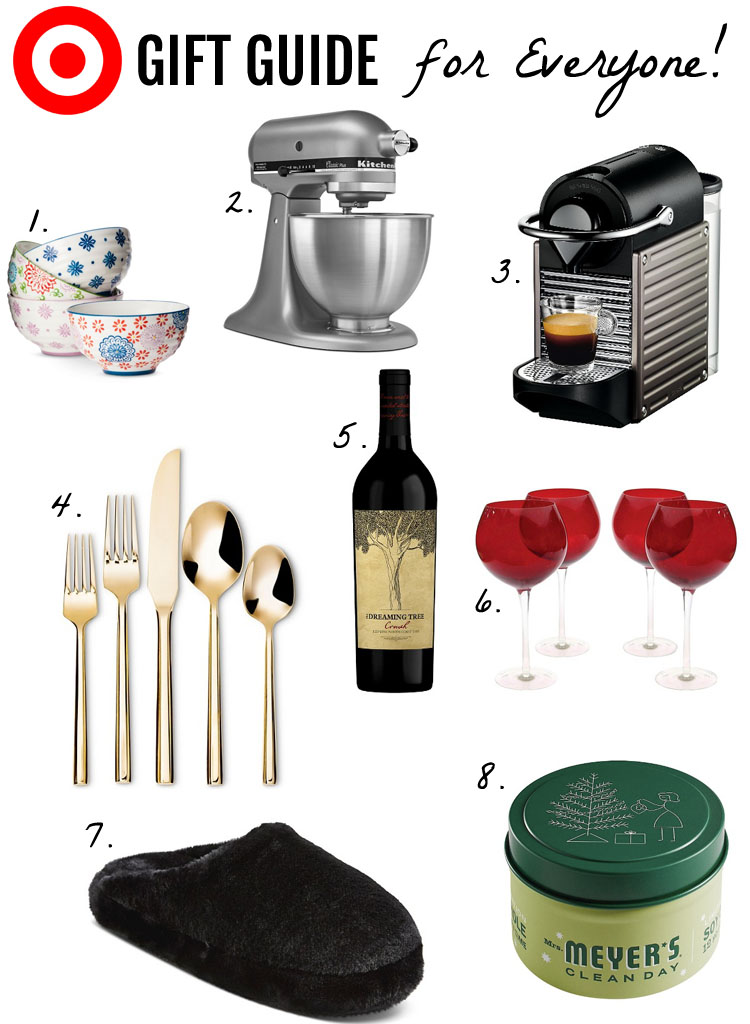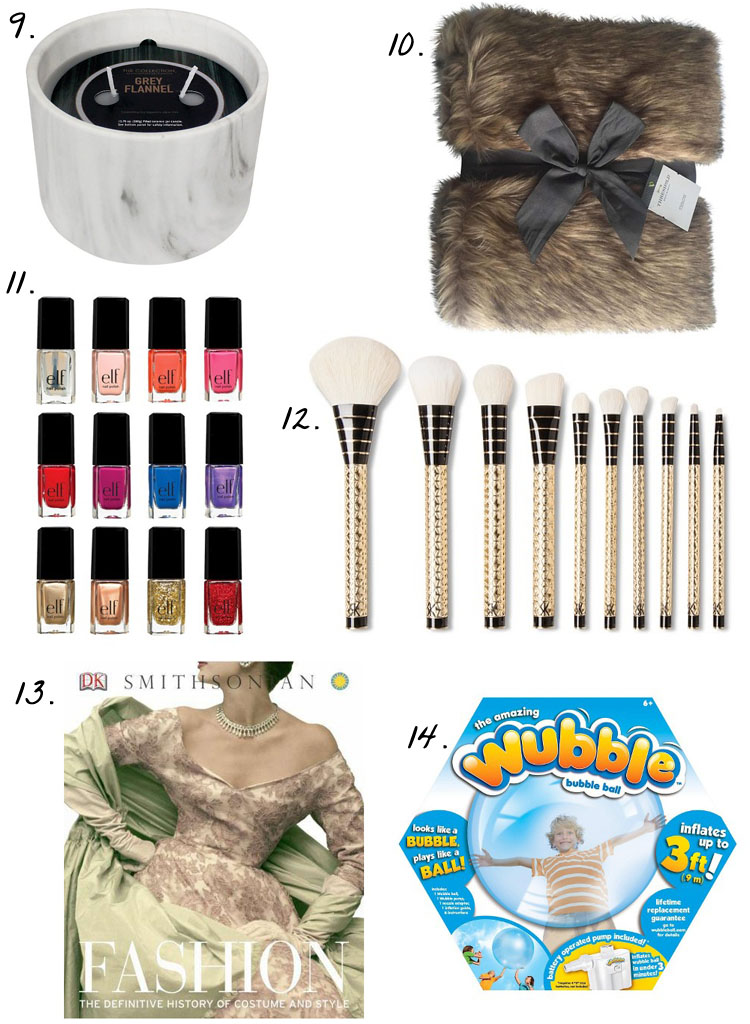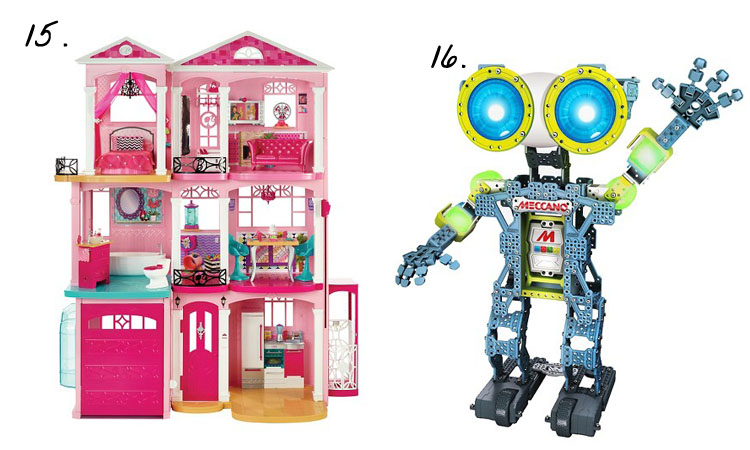 *1. For the cute cook, some cute bowls
2. For the baker, a really nice kitchen tool
*3. For the coffee coniesseur, an instant espresso machine
4. For the elegant host, some gold flat wear
5. For the wine lover, a pretty bottle of wine
6. To help the wine lover, pretty, holiday stem wear
7. For the lounger, a fuzzy pair of slippers
**8. For the Christmas lover, a pine scented candle
9. For the recycler, a candle in a jar to be later re-used
*10. For the cozy craver, a faux fur throw
11. For the nail artist, a 12 pack of e.l.f. colors
12. For the makeup pro, nice, gold brushes
*13. For the true fashionista, a DK fashion book
*14. For the family, the two hour toy
15. For the make believer, a sweet doll house
16. For the engineer, a robot
*I've put an asterisk by those items on my actual Christmas list–helps the husby out!
**I've already purchased 4 of these candles! I'll keep some for myself and give the others as hostess gifts.